Sea ice statistics.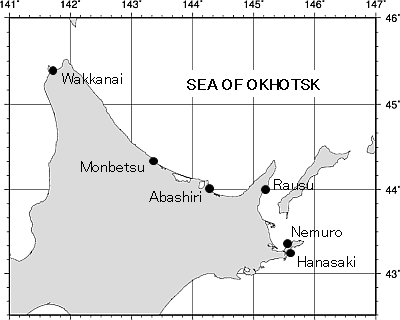 Observation : Japan Coast Guard offices and stations as follow
Wakkanai, Monbetu, Abashiri, Rausu, Nemuro, Hanasaki, Shirito Hana(Kushiro)
Ice observation at Shirito Hana(Kushiro) finished in January 2008.
Ice observation at Rausu is incomplete because of Japan Coast Guard office at Rausu is closed on weekends from 2008.
The first view of the sea ice
| Ice Year | Wakkanai | Monbetu | Abashiri | Rausu | Nemuro | Hanasaki | Shirito Hana |
| --- | --- | --- | --- | --- | --- | --- | --- |
| 1996 | - | Feb.07 | Jan.31 | Feb.05 | Feb.11 | Mar.18 | - |
| 1997 | - | Jan.28 | Jan.24 | Jan.31 | Feb.03 | Mar.24 | Mar.22 |
| 1998 | - | Jan.26 | Jan.25 | Feb.07 | Feb.12 | Mar.07 | - |
| 1999 | - | Feb.04 | Jan.17 | Jan.24 | Feb.14 | Apr.07 | Mar.19 |
| 2000 | - | Jan.22 | Jan.26 | Feb.05 | Feb.10 | Mar.08 | - |
| 2001 | Jan.08 | Jan.08 | Jan.07 | Jan.18 | Jan.23 | Jan.28 | Feb.02 |
| 2002 | - | Jan.30 | Jan.16 | Jan.18 | Feb.02 | - | - |
| 2003 | - | Jan.24 | Jan.11 | Jan.21 | Jan.23 | Feb.19 | Feb.28 |
| 2004 | - | Feb.01 | Feb.01 | Feb.09 | Feb.17 | - | - |
| 2005 | - | Jan.23 | Jan.28 | Feb.08 | Feb.17 | - | - |
| 2006 | Apr.05 | Feb.03 | Jan.30 | Jan.30 | Feb.07 | Feb.20 | - |
| 2007 | - | Jan.20 | Jan.27 | Feb.25 | - | - | - |
| 2008 | Feb.25 | Jan.21 | Jan.21 | (Feb.25) | Feb.22 | Mar.04 | X |
| 2009 | - | Feb.10 | Feb.07 | (Mar.02) | Feb.24 | - | X |
| 2010 | - | Feb.08 | Jan.22 | (Feb.01) | - | - | X |
| 2011 | - | Jan.27 | Jan.20 | (Jan.31) | Feb.13 | Feb.17 | X |
| 2012 | Mar.09 | Feb.01 | Jan.20 | (Jan.27) | Jan.31 | - | X |
| 2013 | Feb.15 | Jan.17 | Jan.15 | (Jan.24) | Feb.01 | Feb.14 | X |
| 2014 | Feb.21 | Jan.27 | Jan.28 | (Feb.20) | Feb.22 | Mar.03 | X |
| 2015 | - | Jan.16 | Jan.16 | (Feb.17) | Feb.07 | Feb.18 | X |
| 2016 | - | Feb.09 | Feb.02 | (Mar.25) | - | - | X |
| 2017 | Jan.25 | Jan.26 | Jan.31 | (Feb.15) | Feb.25 | Mar.22 | X |
| 2018 | Feb.06 | Feb.01 | Jan.30 | (Feb.19) | Feb.19 | - | X |
| average(past 30 years) | Feb.14 | Jan.28 | Jan.24 | Feb.07 | Feb.13 | Mar.04 | Feb.24 |
The last view of the sea ice
| Ice Year | Wakkanai | Monbetu | Abashiri | Rausu | Nemuro | Hanasaki | Shirito Hana |
| --- | --- | --- | --- | --- | --- | --- | --- |
| 1996 | - | Mar.24 | Apr.22 | Apr.21 | Mar.28 | Mar.22 | - |
| 1997 | - | Mar.17 | Mar.20 | Mar.31 | Mar.24 | Mar.24 | Mar.22 |
| 1998 | - | Mar.21 | Mar.22 | Apr.09 | Mar.25 | Mar.17 | - |
| 1999 | - | Apr.12 | Apr.17 | Apr.30 | Apr.14 | Apr.07 | Mar.19 |
| 2000 | - | Mar.24 | Apr.04 | Mar.28 | Apr.03 | Mar.30 | - |
| 2001 | Mar.08 | Mar.21 | Apr.07 | Apr.17 | Apr.02 | Feb.22 | Mar.15 |
| 2002 | - | Mar.08 | Mar.16 | Mar.24 | Mar.02 | - | - |
| 2003 | - | Apr.14 | Apr.23 | Apr.27 | Apr.13 | Apr.06 | Mar.14 |
| 2004 | - | Mar.09 | Mar.11 | Apr.01 | Mar.11 | - | - |
| 2005 | - | Mar.15 | Mar.19 | Apr.05 | Mar.12 | - | - |
| 2006 | Apr.05 | Apr.08 | Feb.16 | Feb.26 | Feb.23 | Feb.20 | - |
| 2007 | - | Mar.23 | Mar.06 | Feb.26 | - | - | - |
| 2008 | Feb.25 | Apr.08 | Apr.13 | (Apr.11) | Apr.14 | Mar.09 | X |
| 2009 | - | Mar.04 | Mar.08 | (Mar.04) | Feb.24 | - | X |
| 2010 | - | Mar.11 | Mar.12 | (Mar.04) | - | - | X |
| 2011 | - | Feb.19 | Mar.10 | (Mar.25) | Mar.09 | Feb.27 | X |
| 2012 | Mar.17 | Mar.31 | Apr.05 | (Apr.04) | Apr.01 | - | X |
| 2013 | Mar.07 | Mar.10 | Mar.21 | (Mar.12) | Mar.10 | Mar.08 | X |
| 2014 | Feb.23 | Apr.07 | Apr.30 | (Apr.30) | Apr.13 | Apr.09 | X |
| 2015 | - | Mar.15 | Mar.07 | (Mar.20) | Mar.07 | Mar.18 | X |
| 2016 | - | Mar.08 | Mar.18 | (Mar.29) | - | - | X |
| 2017 | Jan.25 | Mar.02 | Apr.20 | (Apr.07) | Apr.06 | Apr.08 | X |
| 2018 | Feb.06 | Feb.26 | Mar.27 | (Mar.27) | Feb.23 | - | X |
| average(past 30 years) | Mar.09 | Mar.28 | Apr.01 | Apr.05 | Mar.24 | Mar.20 | Mar.19 |